The culmination of five years of extensive refinement and improvement, the Yue Fei is Maison Celadon's luxury sports watch. A precision instrument built for global adventures, rugged pursuits and evening elegance, the Yue Fei combines Maison Celadon's signature Dial Artistry, the virtuosic craftsmanship of our casemakers, and the reliable and robust CG15 automatic movement. Every component has been designed from the ground up, with no effort spared towards their details and finishing.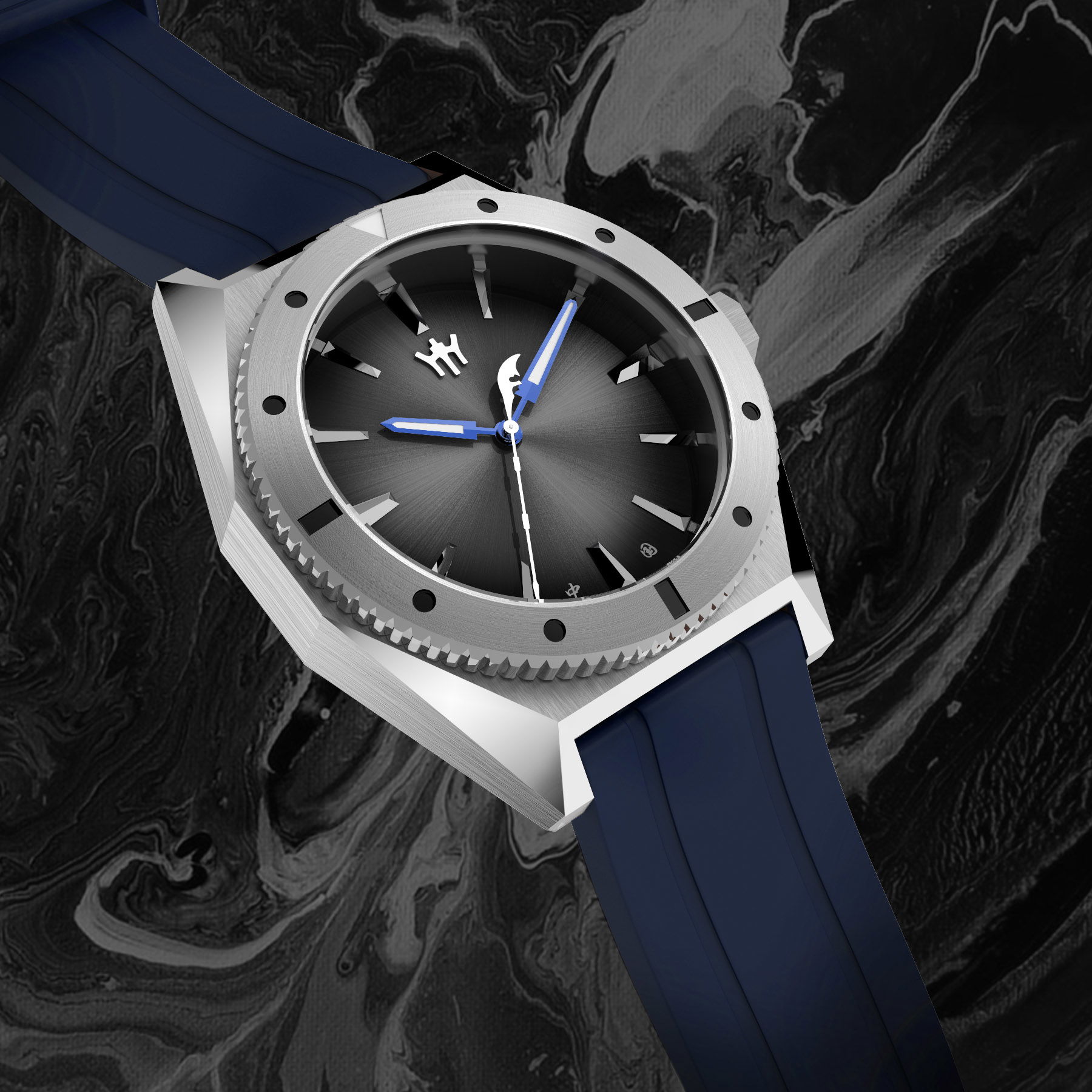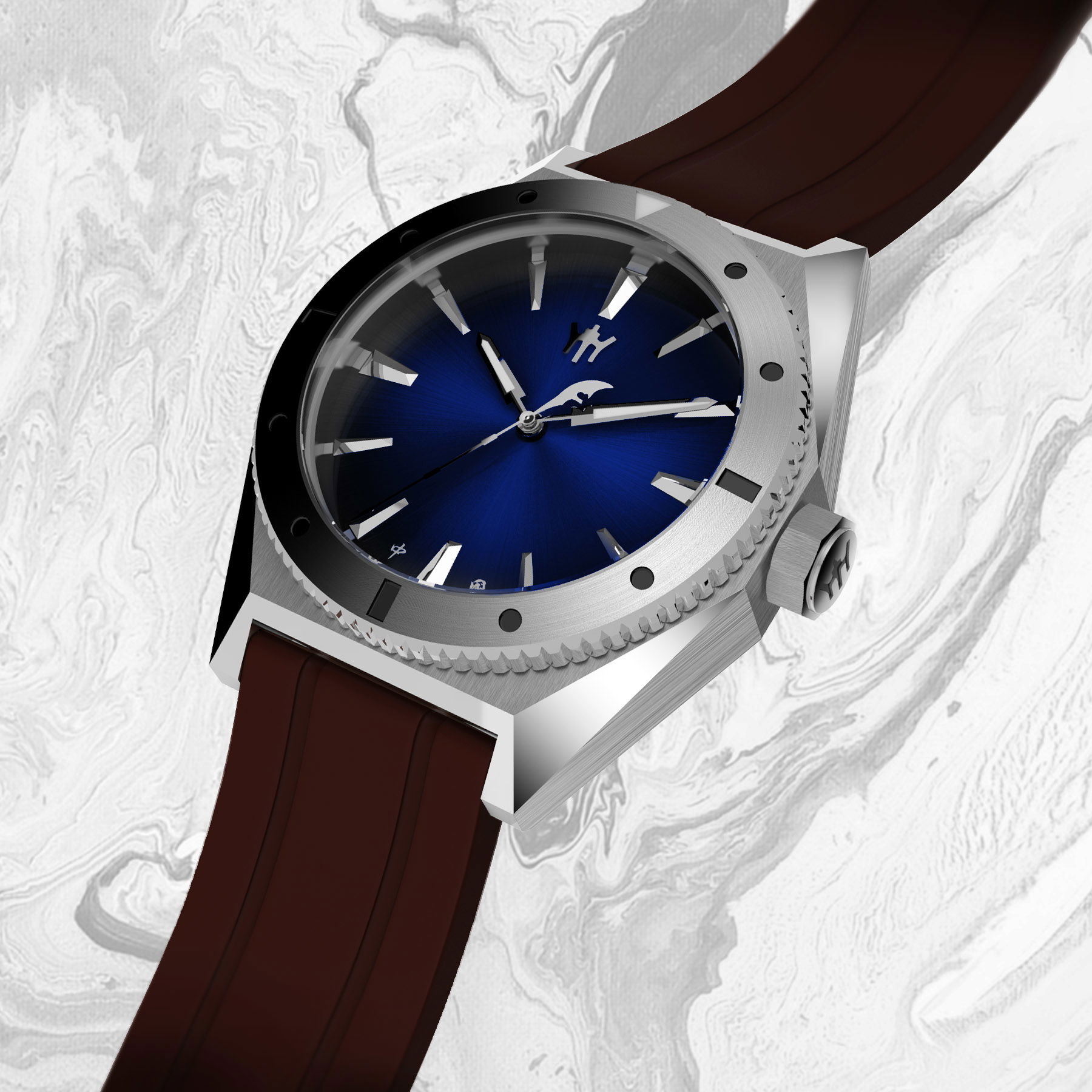 A graduated grey dial with a dark fumée effect surrounding a sleek sunburst centre, the Yue Fei in Obsidian evokes a mysterious aesthetic. Subtle and elegant, with a touch of colour and contrast from the polished blue hour and minute hands.
Order
Vibrant in sunburst blue, also with a graduated fumée effect, the Yue Fei in Azure takes on different hues under various light conditions, and comes with mirror-polished steel hour and minute hands for enhanced legibility.
Order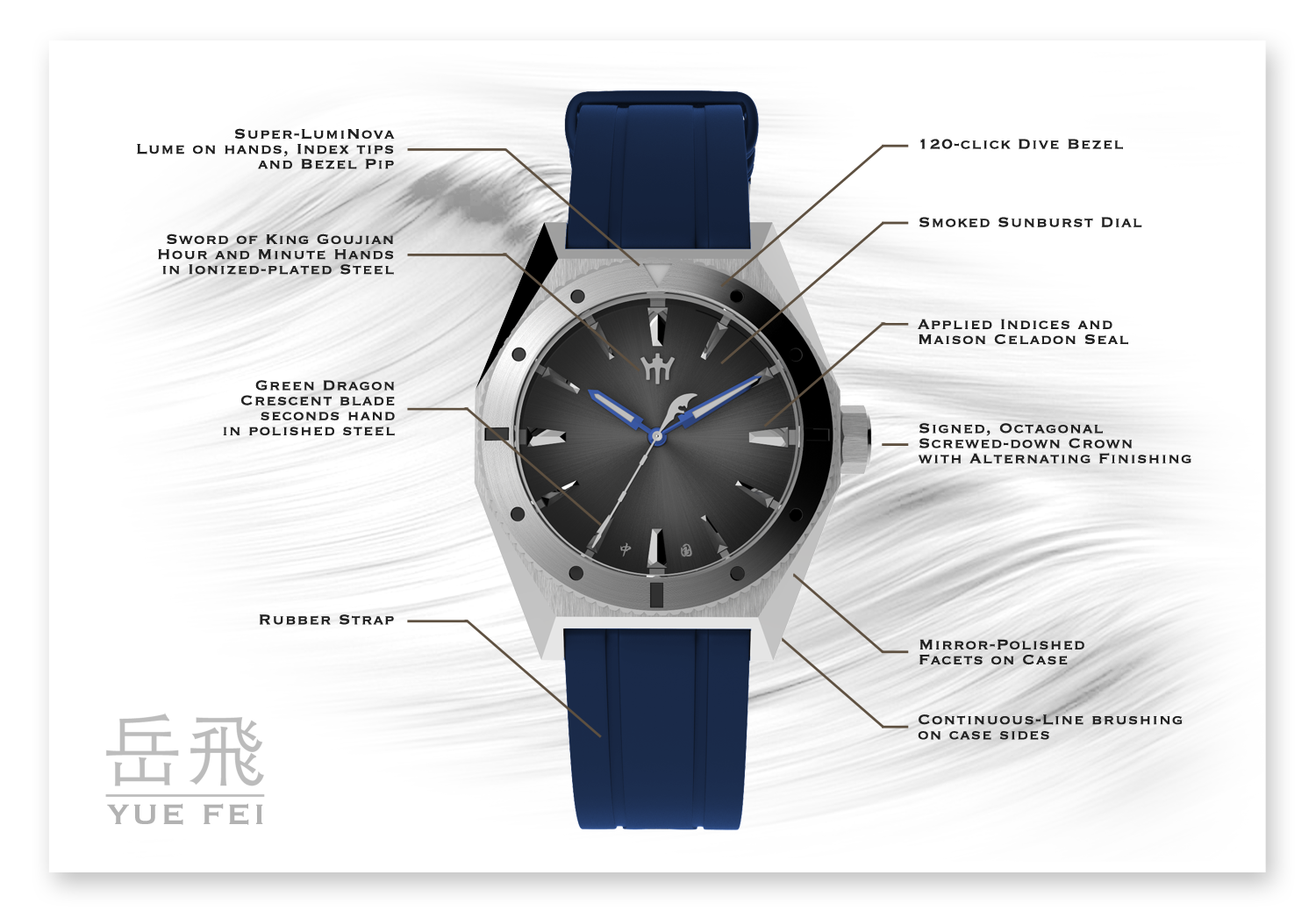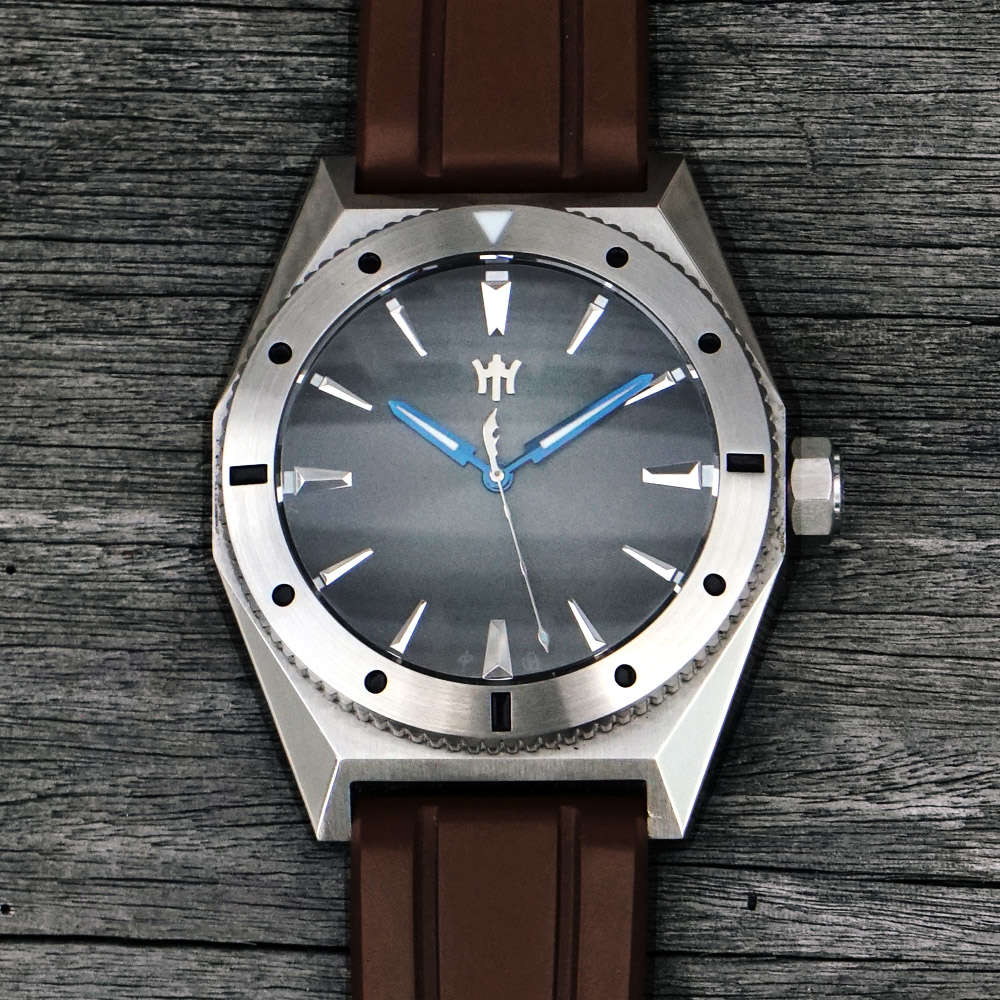 Uncompromised Case Design
A design many years in the making, the case of the Yue Fei is devised to ensure an ergonomic fit on most wrist sizes. The sensible case size, along with elongated facets, ensure the case conforms well on the wrist, while retaining sufficient presence.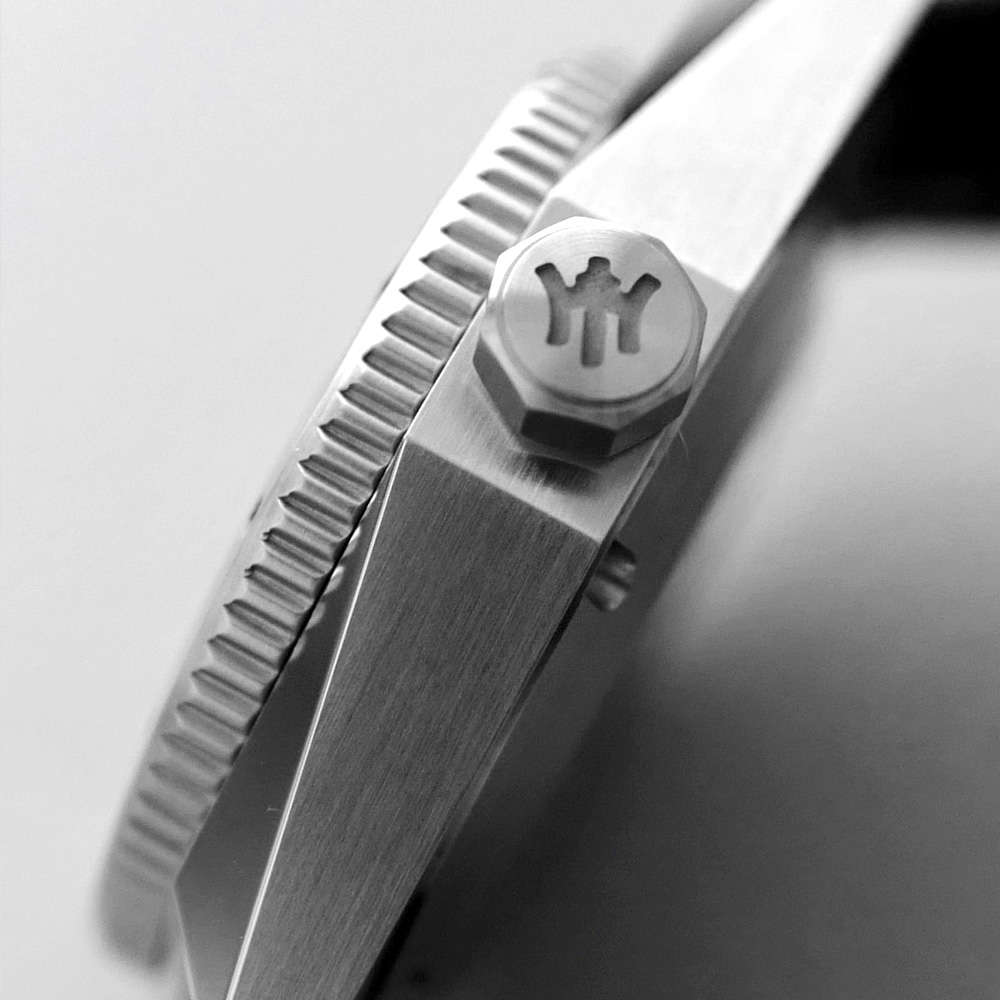 A lost craft in modern watch-making, continuous-line brushing requires a single artisan to apply an uninterrupted brushing across both sides of the watch, resulting in a refined aesthetic unique to Maison Celadon.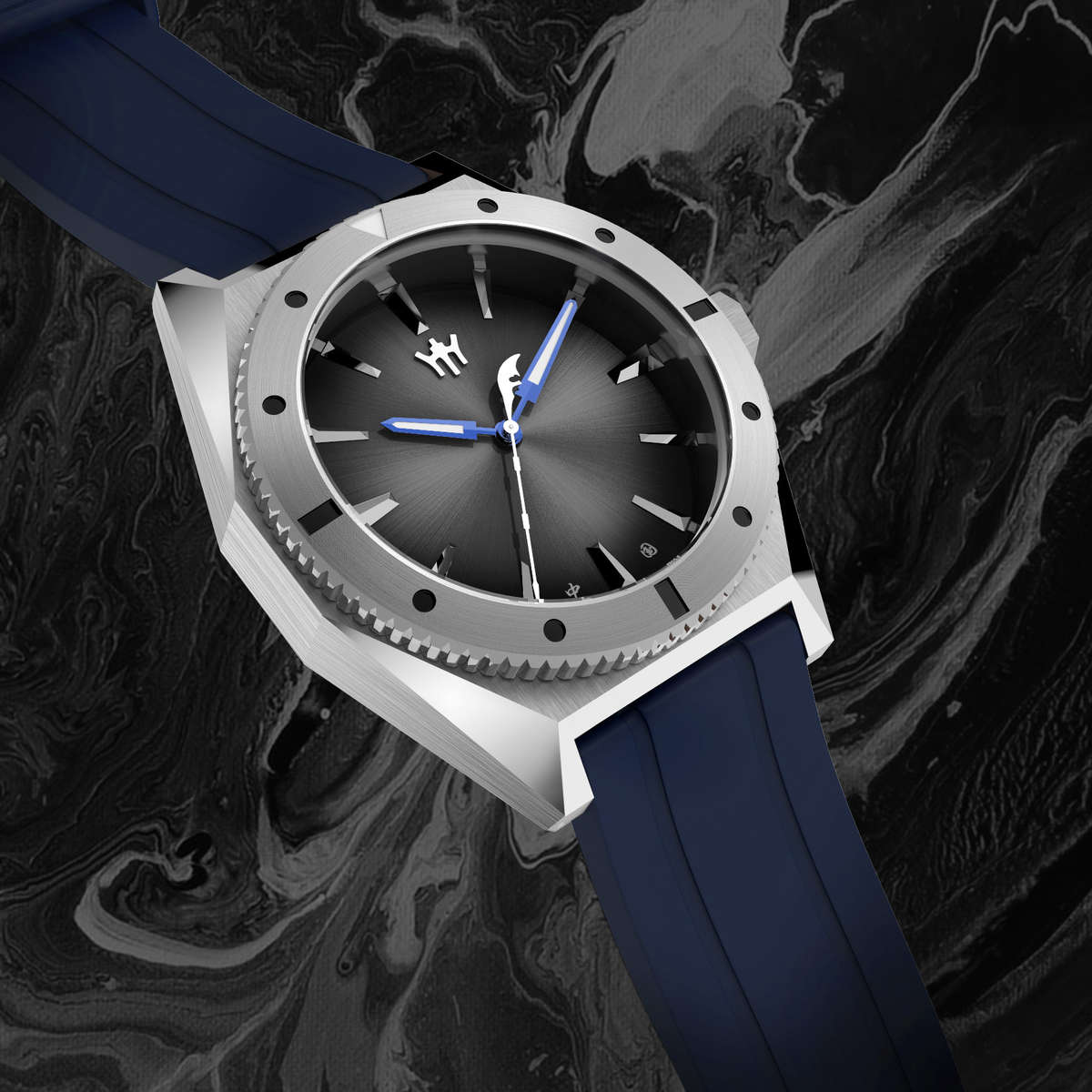 The Celadon-Grade CG15 caliber powers the Watch of Heroes. A robust and reliable movement, with 42 hours power reserve, made in collaboration with Beijing Watch Factory, each CG15 has been individually inspected and regulated by the Maison Celadon Atelier.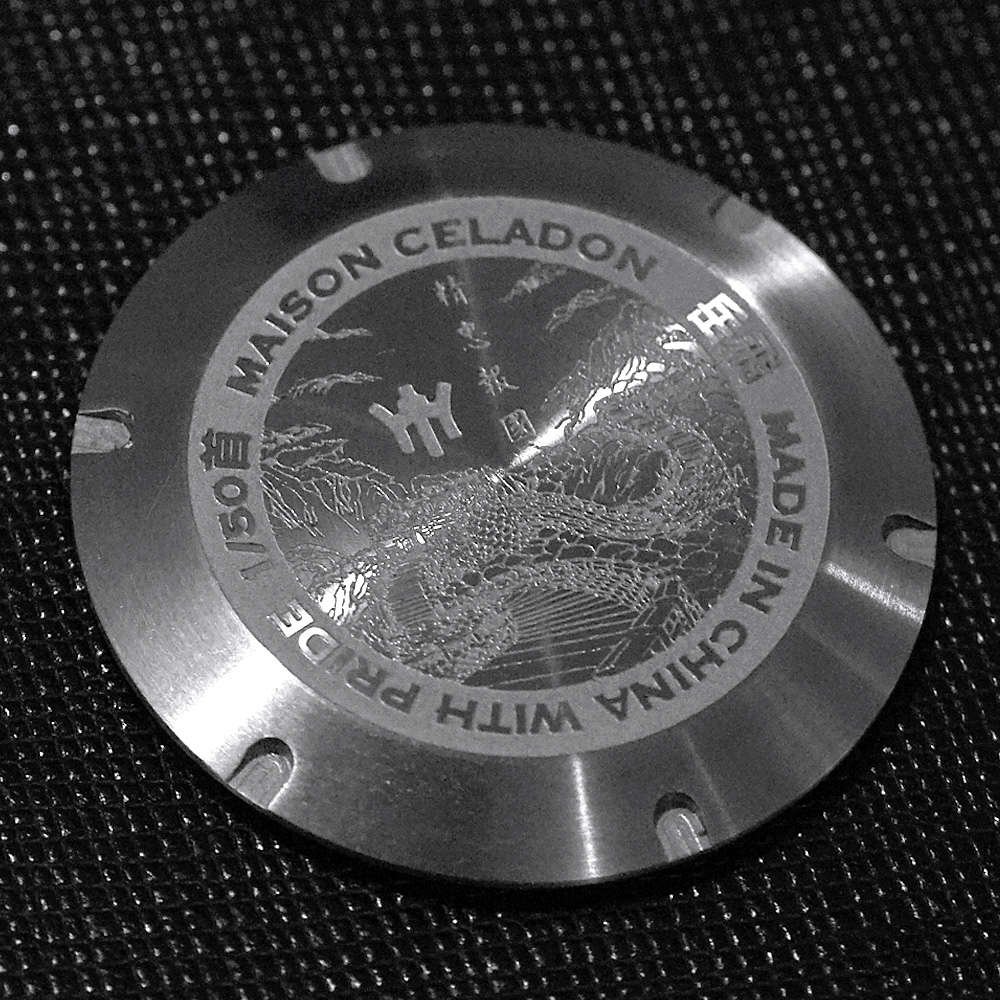 Intricate Caseback Details
A combination of embossing, debossing and laser-etching creates a highly detailed caseback graphic for the Yue Fei. Featuring the Great Wall, a monument to the indomitable spirit of the Chinese nation, as well as a symbol of sovereignty.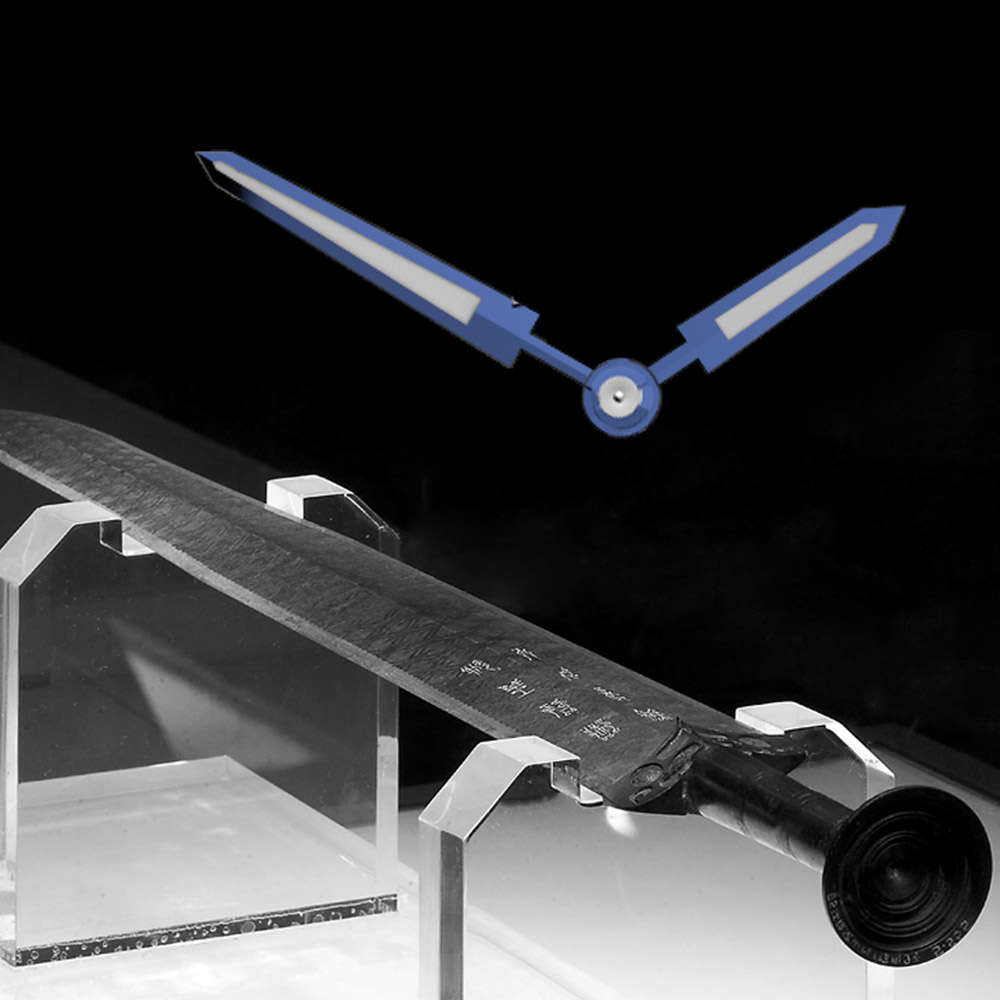 Discovered in 1965 in Hubei, the Sword of King Goujian (496–465 BC) is an ancient wonder. Despite remaining buried for 25 centuries, the sword resisted tarnish and remains sharp, a prime example of ancient Chinese innovation and craftsmanship.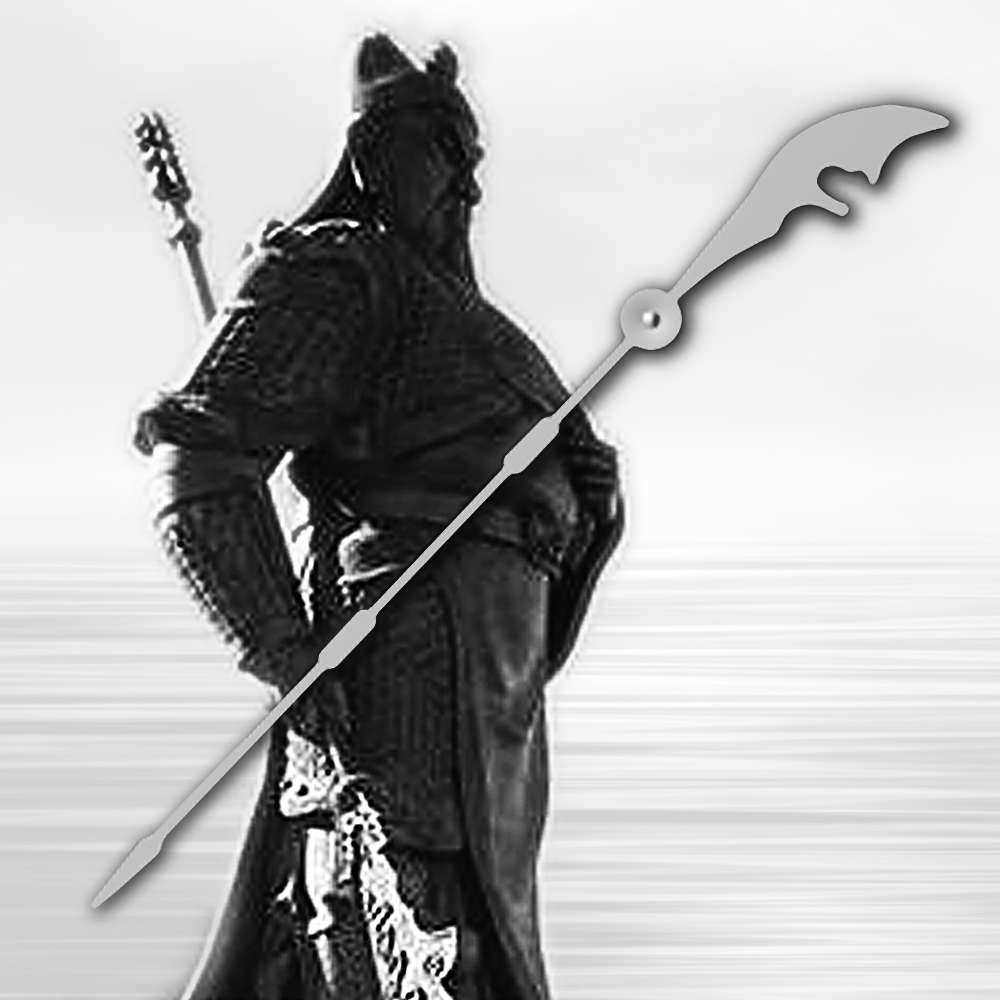 Green Dragon Crescent Blade
Modelled after the Green Dragon Crescent Blade (青龍偃月刀) wielded by General Guan Yu, venerated by the Chinese today as a symbol of righteousness and comradeship. The Green Dragon Crescent Blade is exclusively found in the Yue Fei.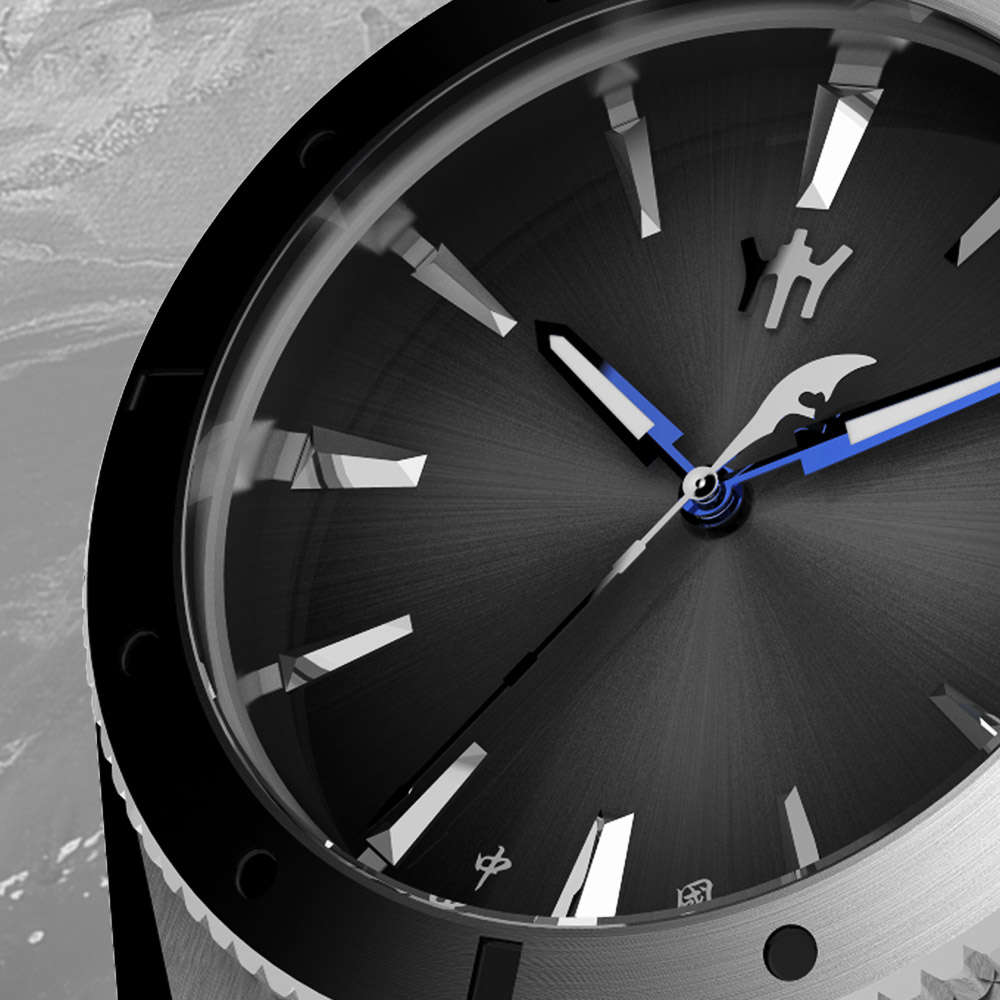 In adherence to Maison Celadon's Dial Artistry tenet, the Yue Fei features a radiant Sunburst dial in either Obsidian grey or Azure blue, with a graduated smoke effect around the edges, creating different visual aesthetics under various light conditions.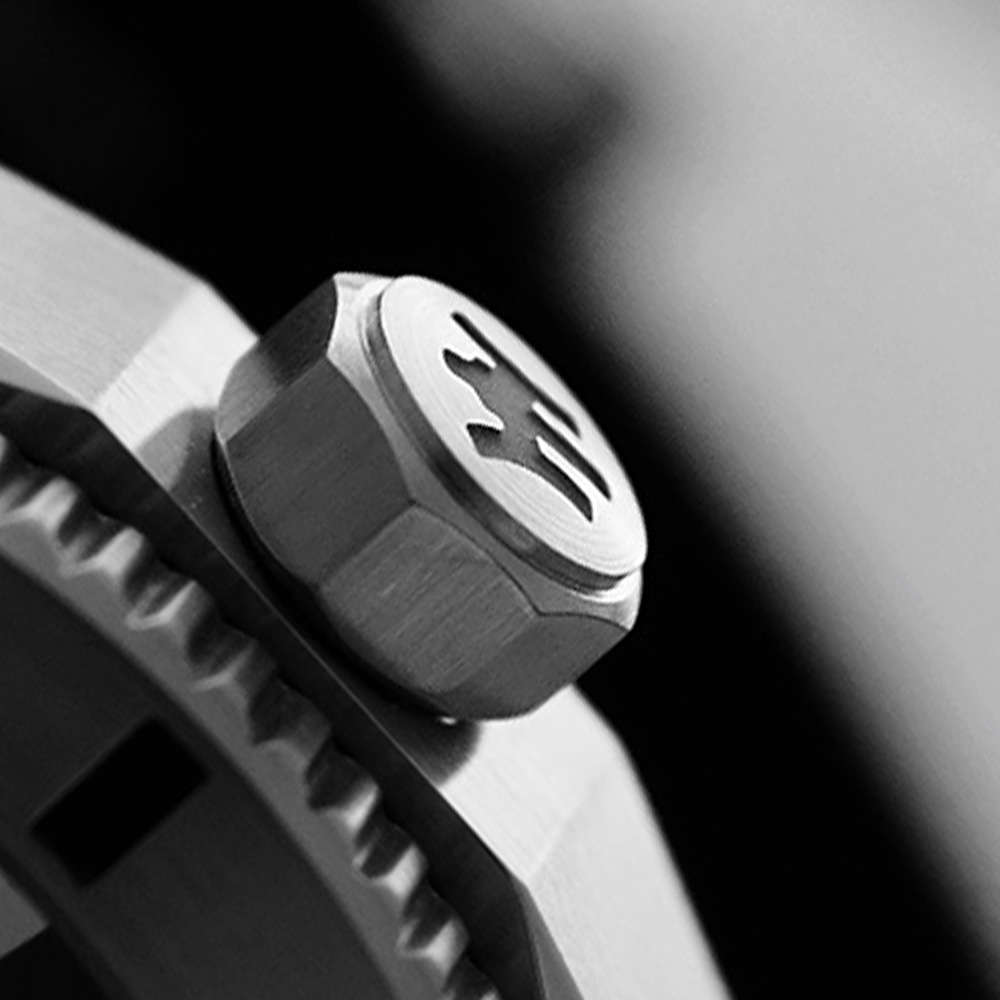 CNC-milled and hand-finished, the crown of the Yue Fei features alternating brushed and mirror-polished surfaces, coupled with a debossed Maison Celadon Seal. A screw-down threading ensures case-integrity in wet environments.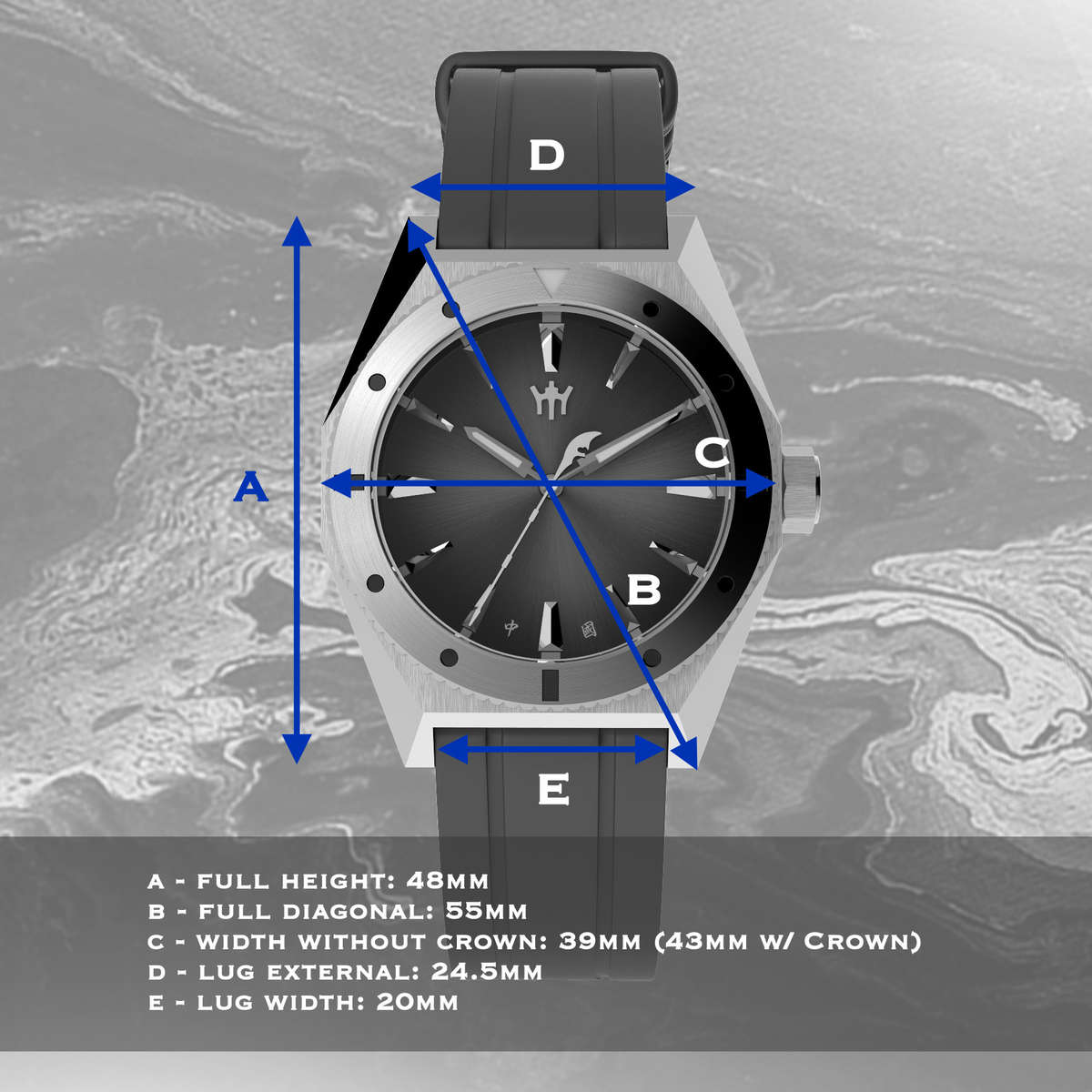 Case: 316L Stainless Steel, alternating Mirror-polished and Continuous-Line Brushed surfaces. Hand-finished.

Water Resistance: 200m

Bezel: 120-click mono-directional, Super-LumiNova on 12 o'clock, circular-brushed.

Dial: Smoked Sunburst, Obsidian grey or Azure blue. Applied polished indices and Maison Celadon Seal. Blue Super-LumiNova on hour marker tips.

Hour and Minute Hands: Sword of King Goujian hands, proprietary design. Blue Super-LumiNova.

Seconds Hand: Green Dragon Crescent Blade hand, proprietary design. Blue Super-LumiNova.

Crown: Alternating finish, octagonal crown with debossed Maison Celadon Seal. CNC-milled and hand-finished.

Strap: Navy leather-rubber hybrid strap. Stingray straps in navy, brown and grey available as options.