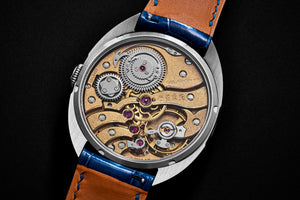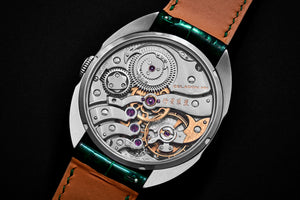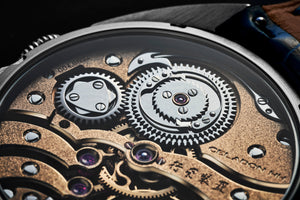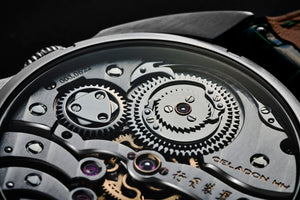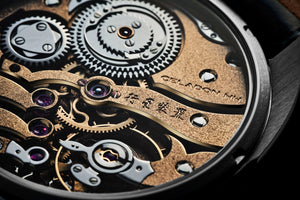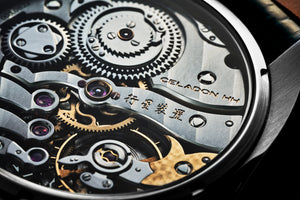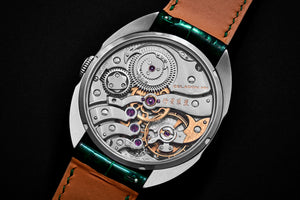 Calibre CH5
To commission a Century, contact us at concierge@maisonceladon.com
All dial variants may be paired with either the Calibre CH1 or CH5, except those exclusive to the CH5. 
The Calibre CH5 Phoenix -
For its latest collection, Celadon HH unveils its new flagship Calibre CH5, wholly designed, created and finished by AHCI master watchmaker Lin Yong Hua exclusively for Celadon HH, as was our earlier Calibre CH1.

The CH5 is conceived as the purest expression of Chinese haute horlogerie in Celadon's inimitably artistic style, with all the trappings and flourishes of high horology finissage such as black polishing, Chinese scroll stripes, heated purple screws, gold chatons, meticulous hand-bevelling, inward and outward angles, elegantly spoked centre wheel and a breguet overcoil.

The artfully crafted bridges, balance cock and click are designed to allude to the crested head and tail feathers of the phoenix, the mythological bird that represents the Empress of China.

A planetary gear mechanism and grande sonnerie-style winding click springs further elevate the grandeur of the movement and give it greater refinement and ease in hand-winding.

True to the bespoke, artisanal nature of Celadon HH, the Calibre CH5 may be customised in finishing style according to the owner's wishes, with any combination of rose or white gold, as well as frosted or striped bridges, possible.

Likewise, the handmade hands may be customised according to the owner's wishes - fully heated purple, transition purpled, blued, or any combination thereof.

Our characteristic peacock tail hands are especially difficult to perfectly heat purple so uniformly because of their width - other watchmakers who offer heat purpled hands use much thinner hands which are easier to heat.