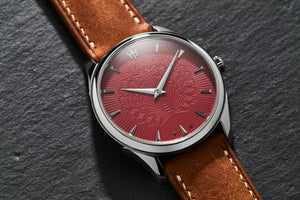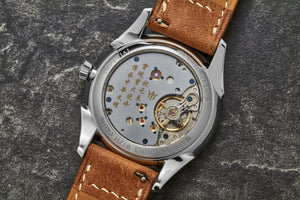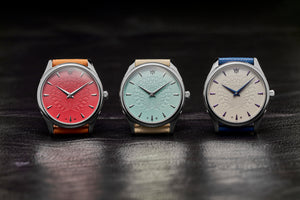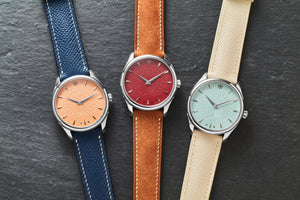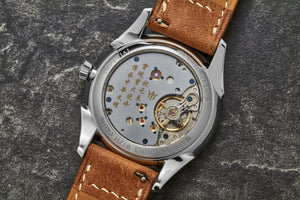 Imperial Peacock (Burgundy)
Note that the price of the Imperial is 1788 Singapore dollars (approx 1280 USD)
PART OF CELADON'S TENTH ANNIVERSARY COLLECTION - CELEBRATING A DECADE OF FIGHTING THE GOOD FIGHT, OF MAKING PROUDLY CHINESE WATCHES AND SAVING HOMELESS DOGS
The Imperial Peacock in Burgundy will be the first and last 50 pieces to be produced in this configuration and with the CG18 movement. After these 50 pieces are finished, no more will ever be made.
The Imperial was our very first design, and our pride and joy when we first launched our brand in August 2012. It remains the cornerstone of Celadon, and the purest expression of what we consider a characteristically Chinese watch - elegant, refined, graceful, yet warm and charming - just like the ancient land of its ancestry.
The Peacock guilloche is inspired by the dials of vintage Chinese watches of the 1960s and '70s, but improved both in refinement and quality of craftsmanship. In Chinese culture, the peacock is a symbol of dignity, rank and beauty, kept for millennia by scholars and whose feathers signified the highest of honours accorded to the mandarins of the imperial court. The peacock is at once flamboyant, yet elegant; distinctive, yet dignified.
Unmistakably the quintessential colour associated with the Chinese civilisation, the Imperial Peacock in Burgundy showcases a darker shade of red than our Imperial Plum Blossom with Imperial Red dial, toning down the flamboyance of the peacock guilloche in perfect yin-yang equilibrium. The result is an elegant watch like none other, standing charismatic and inimitable, the very definition of a fine and proudly Chinese watch.
The Imperial's curvaceous teardrop lugs case echoes the swooping eaves of classical Chinese architecture and furniture. 
The Celadon-Grade B18 movement, made by Beijing Watch Manufactory exclusively in a higher-grade for us and tested stringently through three layers of quality control, shines with its characteristic Chinese Scroll Stripes and calligraphic engraving in gold, amidst four gold chatons and a constellation of blued screws.
The latest version of the CG18 movement used here is produced with a very finely sandblasted plate for a more contemporary finish, instead of the striping used in previous Imperials, with the same engraved calligraphy in gold.
The strap shown is a bespoke hand-stitched strap in Barenia. The stock strap included will be different (see below). If you wish for the same bespoke strap, please let us know after you place your order by contacting our Concierge by email.
On the new "One of Fifty" numbering - feedback we received from previous generations of Imperials was that most people could not receive the number they chose out of 50, and the old numbering really made only the single person who got 1/50 happy, and all the others less so. So the current numbering system attempts to satisfy all, by offering a clean numbering rather than a random number out of fifty. And don't forget that your watch is one of only fifty ever made, with all the exclusivity that entails.
Technical Specifications of the Imperial
General -
Movement -
Celadon-Grade B18 with bespoke calligraphic engraving

handwinding movement

21,600 vph

approx 42 hour power reserve
Dial and Hands -
oil-pressed guilloche dial

double-faceted hour and minute dauphine hands 
Case -
316L stainless steel 

voluptuous teardrop lugs case

screwed down caseback

50m water resistant

38mm case diameter

9.4mm thin

20mm strap width at lugs

front and 

rear sapphire crystal
Strap -
signed tang buckle

chocolate calf leather strap with signed cream lining 

a wide range of ready-made and bespoke straps available as options